WELCOME
Hello Classmates!!
It's official--the 50th reunion for the Lee High Class of '64 on Aug 29-31, 2014, at Stonewall Jackson Hotel in downtown Staunton, Virginia, is history. But the memories and celebration continue on Facebook Lee High Class of 64 page and in small and large gatherings in downtown restaurants, on back porches and living rooms around Staunton or wherever classmates are gathered together to keep the spirit alive. Be sure to check out Charlie Bishop's thoughtful essay on the importance of treasuring our relationships as the years pass, and the meckstroth-presentation page for the full text of Anne Meckstroth Menter's talk to the class following the Friday dinner. Also click the Hogshead Soda Fountain link at the left to find links to contributions from other classmates, including a page of Cecily Wood's pastel drawings. Here is a photo of the latest meeting of the Reunion Committee followed by Jo Viglione's excellent summary of what occurred: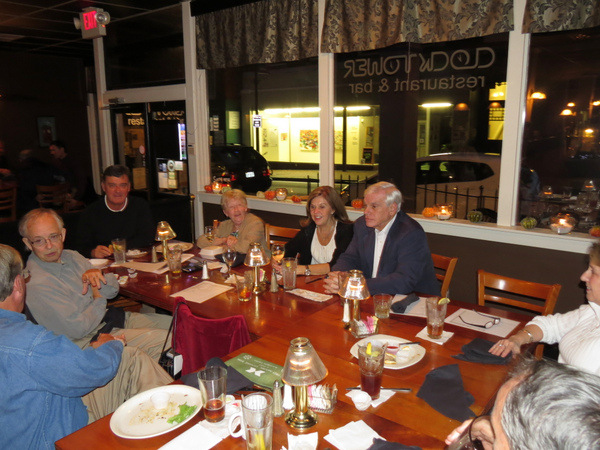 The Reunion Committee meets on October 21, 2014, at the Clocktower Restaurant in Staunton.
October 21, 2014
Clocktower Restaurant in Downtown Staunton
Reunion Committee Meeting Minutes By Jo Viglione, Chair
Your Reunion Committee met last night at the Clocktower for a post reunion wrap-up. We had a great turn out: Deane Dozier and Jamie Frisbee, Carolyn and Charlie Temple, Jim Goodloe, Jody Grogan, Charlie Bishop, Donna Van Fossen, Jay Hanger, Carolyn Mitchell Brown, Bill and Jo Viglione.
Charlie has already written about the reunion and what most of us took away. I won't compete with his heartfelt and eloquent words. We all agreed that he had expressed our feelings beautifully. If you haven't read it, you will find it here.
The only downside anyone expressed was not enough time to spend with everyone. Such was the delight of the weekend. We were blessed with an amazing turnout with approximately 50% of classmates attending.
Deane passed out the class photo which she has gotten back from the printer to those who had ordered them. The remainder will be mailed to those who ordered, and any extra funds will be added to the class treasury. Most amazingly, with the help of Charlie Bishop, all classmates were identified and a list of names is enclosed with the pictures for pasting to the back of the photo! Additionally Jay reported that he had mailed mugs to classmates who had planned to attend but were unable to do so. He also had facilitated the sale of prints of Craig Peterson's painting of the Dairy Rite. Craig donated proceeds to our class that went beyond his cost, adding $70.00 to our treasury. There are 18 mugs remaining. If you would like any and are willing to make a donation to cover mailing and production, please let us know. All attendees were given mugs as part of their weekend. Jay can be contacted at .
I was happy to report that we came in right on budget. We are carrying forth a balance which stems from the previous reunion and some generous classmates who made donations. This will allow us some latitude for the future.
With that in mind, the discussion turned to what we would like to do next. The weekend and the renewed friendships made it important to stay in touch. Thankfully we have our website and Facebook, (thanks to Deane's generosity) and e-mail to facilitate this. Most importantly, we didn't want to wait five years for another gathering.
The following suggestion was put forth: an event for our classmates to celebrate our 70th birthdays sometime in 2016. Three ideas were discussed:
A picnic/potluck gathering at a classmate's home that could accommodate the event
A catered event at a winery where there could be sponsors and perhaps a small charge to attend
An event at the Frontier Museum—details not discussed
There was a lot of excitement about this and we are open to discussion so "Let's Talk"! Feel free to post your comments about the reunion as well as what you would like to see going forward. Meanwhile, the committee will be busy checking out venues—dirty job but…….:)
The Reunion Committee meets on September 17, 2013, at the Clocktower Restaurant in Staunton.
The Reunion Committee
Bill and Jo (Gibson) Viglione
Charlie and Kathy (LaCas) Bishop
Charlie and Carolyn (Weaver) Temple
Carolyn (Mitchell) Brown
Deane Dozier
Jim Goodloe
Sondra (Jones) Shaner
Frances (Lesley) Gough
Dick Bell
Kay (Atkins) Parker
Anne (Meckstroth) Menter
Barbara (Henry) Corbin
Jody Grogan
Jay Hanger
Donna Van Fossen
This website is provided free of charge to the class by webmaster Deane Dozier. Email updates about yourself to reunion committee members Deane Dozier or Jo Gibson Viglione.